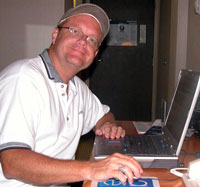 It's a long drive to Madison from central Missouri but I'm here and ready for the show to begin. It actually gets started officially on Tuesday but I know there will be plenty of activity tomorrow so keep checking back. I just got into my hotel and the have good wireless high speed access!
It wasn't raining when I got in but I did drive through some downpours in northern Illinois. It looked like a lot of the corn has been harvested or is being harvested as I drove through Missouri and Illinois. Soybeans have hardly been touched yet and there was still a lot of corn standing as I got into Wisconsin. It's harvest time and hopefully the weather will cooperate.
I'm looking forward to blogging World Dairy Expo for you and hope you will like what you see.