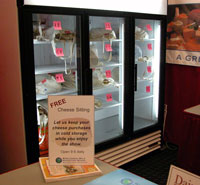 I've heard of a coat room at a banquet. How about a cheese storage room at a farm show?
I've been putting off buying some cheese here in the America's Dairyland Marketplace because I can't leave until Sunday. I didn't know that the Wisconsin Milk Marketing Board is offering to store your purchases in a refrigerator until you're ready to leave.
How handy is that? Great idea.