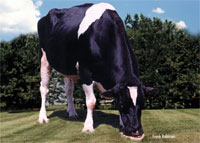 That is a lot of bull standing there. And he's got the awards to prove it.

For the third year in a row, the most prestigious award given to a bull, the Ted Krueger Premier Sire award, was won by 7HO5157 Regancrest Elton DURHAM-ET*CV at the 2005 World Dairy Expo International Holstein Show, Madison, Wis. With four class winners and 23 top-10 finishes, DURHAM daughters represented nearly 25 percent of the milking animals at World Dairy Expo.



This release was sent in from Select Sires. They obviously have a lot of pride in their work!
This is an invitation to any group or organization to send in your news and announcements, especially if it has to do with awards and World Dairy Expo. Just send them to: World Dairy Diary News