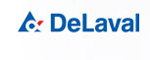 It has been interesting to see some consumer-oriented websites do a story about the computerized robotic milking machine from DeLaval (their Voluntary Milking System).
One story was on Engadget today called "Cow Milking Robots," and it linked to the page on the DeLaval website where you can see video of the machine in action.
Another story about it appeared on LinuxDevices.com since the computer software to run the machine uses, Linux.