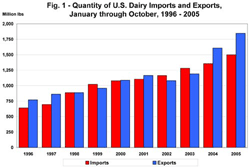 According to the IDFA, dairy exports were up significantly in 2005. You can visit their website to see more information and a better image than the one I've posted here.

Using data for January through October for each year (October 2005 is the latest data available), the total quantity of U.S. exports grew by 35% in 2004, and are up another 15% in 2005. Importantly, since early 2004, these exports have been prompted without U.S. government subsidies through the Dairy Export Incentive Program.
The value of U.S. dairy exports is also growing faster than the value of imports. Through October 2005, U.S. dairy product exports totaled nearly $1.4 billion, up 20% over the same period in 2004. U.S. imported dairy product value in the same 2005 time period increased only 11%, to $2.1 billion.