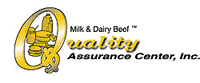 Quality assurance is the key to getting a "jump" on consumer concerns related to dairy and livestock production such as nutrient management and animal care.
Ryan Anglin, whi is a member of Dairy Farmers of America and a dairy producer from Bentonville, Arkansas has found one answer in the Five-Star Quality Assurance Program. For the second consecutive year, Anglin, who milks 300 cows and raises all of his forage and replacement stock, has earned a "5 Star" rating in a certification program that evaluates animal care and nutrient management practices. Anglin says the certification process is well worth the cost. Listen to Ryan Anglin here.
For more information and audio from Ryan, visit the DFA website here.