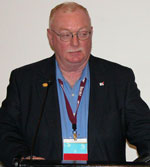 Dairy producers don't always think of themselves as beef producers but since they're paying the Beef Checkoff they might be interested to hear what it's doing for them.
At the Cattle Industry Convention today the Dairy Producer Communications Committee met. It is chaired by Gary Sharp.
I interviewed Gary after the meeting. It was a lively one in which some very interesting information was presented by CSU Researcher, Gary Smith. I'll have an interview with him later.
In my interview with Gary Sharp he talks about what the Beef Checkoff does to benefit dairy producers.
You can listen to my interview with Gary here:

Gary Sharp Interview (4:19 Min. MP3 File)