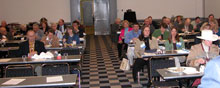 Dairy producers attending yesterday's Dairy Producer Communications Forum at the Cattle Industry Convention heard some surprising news.
If there were any doubts about the value beef from dairy breeds bring to the market, they were dispelled by Dr. Gary Smith, department head of animal sciences at Colorado State University, at the Dairy Producer Communications Forum luncheon during the Cattle Industry Meeting. Smith, the keynote speaker, said he doubted enough high-quality beef could be supplied to restaurants such as Morton's without beef from Holsteins. One reason beef from Holsteins consistently scores well in tenderness, quality and taste is that 90 percent of all Holstein sires are descendents of five Holstein bulls. Few breeds can tout such consistency, says Smith.
Smith has been closely involved with the beef checkoff-funded National Beef Quality Audit program that evaluates the quality of beef and helps identify measures beef producers can take to increase quality.
You can listen to my interview with Gary here:

Gary Smith Interview (7:28 min. MP3 File)