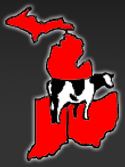 How well do you know your nutrition program? Are you squeezing every drop of potential production out of your milking string? I just read an article discussing how your profitability will suffer if you either over or under estimate forage requirements for your herd. With that in mind, you might consider making plans to join me in Fort Wayne later this Spring.
Purdue, Michigan State, and The Ohio State University invite you to the 15th Annual Tri-State Dairy Nutrition Conference at the Grand Wayne Convention Center in Fort Wayne, Indiana. The Universities are joined by experts from a whole host of University and industry areas of expertise. The Conference, held April 25 & 26, will feature discussions on nutrition and animal health, ration formulation and forages, and nutrition and the environment. The overall theme of the conference, "New Developments in Dairy Nutrition and Feeding Systems," will be extremely relevent because of the impact of dairy farms and dairy nutrition on the environment and the public perception of agriculture.
Some specific session topics include feeding corn disteller grains and the maximum inclusion rate, recent research on energy intake and reproduction, digestibility of fat supplements, in-vivo digestibility of forages, and starch digestibility of corn and corn silage. Speakers will hail from Cornell, University of Wisconsin-Madison, University of Illinois, Elanco, USDA, Utah State, South Dakota State, K-State, Penn State, and Virginia Tech.
Registration is $130, and is due by April 7th.