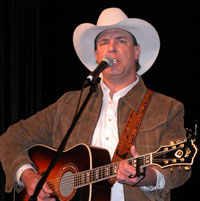 I'm sorry I haven't posted since last week. I really thought I'd find some dairy news at Commodity Classic but in all the busy-ness that didn't happen. However, since we're running a video iPod contest for New Holland I thought I'd share this with you.
Our New Holland, "Down on the Farm" Classic iPod Keepsake Contest" is tied in with their promotion of the new Michael Peterson CD. Here's your chance to own an iPod since we'll be giving a video iPod away to one lucky winner and it will contain the new CD.
You can get a preview of it in the audio file posted here from Michael's performance at the general session last Friday at Commodity Classic. In fact, he wrote a song just for corn and soybean growers (and all farmers) and debuted it there.
You can listen to Michael's stage performance right here:

Michael Peterson Performance (27 min MP3)