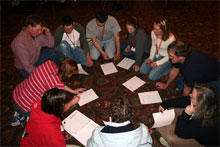 The Young Producers Leadership Conference, sponsored by Accelerated Genetics, gave attendees plenty of educational opportunities and time to work together.
The producers that attended this year's conference included:
Troy & Leigh Allen, Reedsburg, WI
Diane Bovee, Oakfield, WI
Tim Bowers, Marion, WI
Tod & Sondra Brancel, Endeavor, WI
Gary Depies & Julie Bores, Adell, WI
Todd & Jessica Ertl, Unity, WI
Mike Kelley, Fennimore, WI
Steve & Amanda Killian, Blair, WI
Brian Koch, Waunakee, WI
Ken & Theresa Kohlmeyer, Reedsburg, WI
Steve & Patty Kvigne, Ferryville, WI
Ed & Katie Lawver, Hillpoint, WI
Erika Lepeska, Monfort, WI
Tim Maier, Jim Falls, WI
Thomas & Emily Martin, Shullsburg, WI
Chad & Lisa Pethke, Suring, WI
Benjamin Raasch, Goodhue, MN
Katie Reichling, Darlington, WI
Matt Scott & Juliann Balistreri, Blanchardville, WI
Steve & Kristi Thomas, Greenwood, WI
Jerry & Jennifer Volenec, Highland, WI
Phillip Waldera, Whitehall, WI
Donald R. Jr. & Renee Wendlandt, Randolph, WI
Matt & Janine Wipperfurth, Dane, WI
Accelerated Genetics' Young Producer Program is open to any producer, individuals or couples, who are interested in expanding their horizons, meeting other producers, and having fun doing it. Anyone interested in becoming involved is encouraged to attend any or all of the Young Producer activities throughout the year! Upcoming Young Producer events include a Summer Meltdown to be held June 24th in Fond du Lac, WI and a Fall Conference slated for November in Stevens Point, WI. For more information on any of these programs contact Kari Stanek – 1.800.451.9275 or kstanek@accelgen.com.