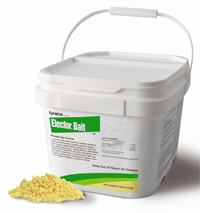 There's a new product out for fly control you may want to look at. It's Elector Bait, from Elanco Animal Health and was just approved by the EPA.

This novel bait is a yellow, granular formulation that is highly attractive to flies. Elector Bait provides ongoing, effective control of house flies through a unique, delayed mode of action, with no known insecticide resistance.
"The economic impact of flies is significant, both in terms of animal health and human nuisance," says Eduardo Lopes, team leader, U.S. parasiticides, Elanco Animal Health. "That's why Elanco continues to look for unique pest management solutions for producers – and we've delivered it with Elector Bait."
As the first bait in the new spinosyn class, Elector Bait works differently – it has a delayed mode of action that kills house flies after they have eaten and left the bait area, keeping the product clean and available for optimal performance. Unlike other bait products, Elector Bait granules are bright yellow, which is highly attractive to flies and doesn't have a nasty odor.
Elector Bait has another important advantage to a leading bait product on the market.
"Studies have shown that with QuickBayt, 15 percent to 20 percent of flies recover from the initial knockdown and survive(1)," says Lopes. "Lasting fly control requires more than just knockdown. With Elector Bait, flies aren't just stunned – they die."