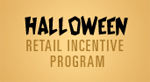 What would be better to wash down a couple pounds of chocolates and other assorted candies than a cold glass of chocolate milk? Nothing.
The MilkPEP people have decided that chocolate milk is the official drink of Halloween. Good idea. It needed something wholesome and nutritious.

The month-long promotion in October encourages consumers to buy this healthy treat and offers retailers a chance to boost their sales during this fun and popular holiday. Each mass merchandiser, convenience store, drug store and supermarket that registers for the promotion will receive a point-of-sale kit that includes a banner, wobblers and static clings. In addition, stores will receive prizes for featuring flavored milk in their advertising during October. Retailers can pick either a larger quantity of lower value prizes or a smaller quantity of higher value prizes. Prizes, which include DVD systems, MP3 players and CD players, can be used for in-store giveaways, employee incentives or any other way the retailer chooses. Early prize shipping is available for qualified stores.
The sign-up deadline is July 24. Processors and American Dairy Association Key Account representatives can find sell sheets, order forms and account lists in the Halloween section of www.milkpep.org or by calling the milk hotline at 1-800-945-MILK (6455).