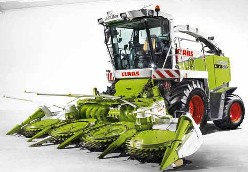 CLAAS of America is raising the horsepower of the JAGUAR line of forage harvesters with the announcement of the GREEN EYE lineup. The GREEN EYE features a host of technical innovations designed to imporve productivity and efficiency.
The most noticeable upgrade may be the sheer power of the Tier III Engine – a range from 345 to 623hp in either a 6 or 8-cylinder engine, depending on which model Jaguar you choose. Both engines feature electronic fuel injection to improve fuel efficiency.
The GREEN EYE also features a multifunction pivoting lever to upgrade control accuracy with a choice of three sensitivity modes. Additive tank flow can also be adjusted from the cab for added convenience in varying field conditions.
Finally, the Jaguar now features an optional COMFORT CUT infinitely variable length of cut gearbox with in-cab dial settings, as well as a feed roll opening allowing 28% higher capacity and a new metal detector with metal location indicator.