It looks like construction has started on the new Iowa State University dairy farm south of Ames and officials look forward to opening the facility in 2007. The ground breaking was held this spring.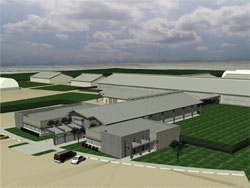 "We are beginning an important new chapter in dairy science at Iowa State and for the state of Iowa," said Wendy Wintersteen, dean of ISU's College of Agriculture. "The Dairy/Animal Science Education and Discovery Facility will elevate Iowa State into the top tier of institutions with educational and research facilities devoted to progress in dairy science and animal science."

The new dairy facility will be located on an 887-acre site three miles south of Iowa State's central campus. Funding for the nearly $15 million facility is coming from proceeds from last year's sale of ISU's Ankeny Farm to the City of Ankeny. The sale was directed by the Iowa Legislature in 2002. The Committee for Agricultural Development, a nonprofit organization affiliated with the university, is providing a $1 million grant to assist in developing the farm.
Animal agriculture is a huge economic factor in Iowa, Hogberg said. "The Iowa dairy industry contributes $1.5 billion to the economy each year. We've been working with Iowa's dairy leaders to set new goals to enhance this economic impact. Taking advantage of this opportunity will require innovative research and trained people, which is where Iowa State and the new dairy farm will play a critical role."
The facility will house 450 milking cows – about 100 more than the Ankeny dairy operation – plus a similar number of heifers, dry cows and calves.

You can see a site plan of the facility here.
See the rest of the release here.