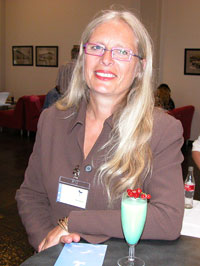 One of the first people I interviewed here in Norway at the IFAJ Congress is involved in milking horses. This is not something I'm familiar with. Maybe you are.
But to learn more abou it I interviewed Mette Johnson, Equi Libre AS, who was here to serve us some samples. It's in the glass in front of her. It's green because it's also got vodka, fruit juice and curacao.
Learn a little more about mares milk in my interview with Mette.

Mette Johnson Interview (5 min MP3)
AgWired coverage of IFAJ 2006 is sponsored by: