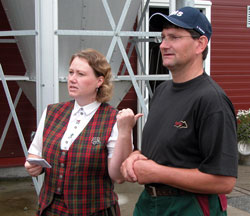 Today I got to visit a dairy operation which is pretty big business in Norway. We toured the Smestad farm. Pictured here are our hosts, Ole Kristian and Randi Skallerud.
The interesting part of the dairy is that they're using an automatic milking system from DeLaval. So before we event went into the barn we learned more about robotic milking.
I interviewed Ole after we got into the barn. He milks 47 cows at this facility and says that the long cold winter is one of the challenges he faces. He also says that his farm has internet access and that Randi and his kids use it while he's slowly learning how himself. They actually have wireless access which I found with my computer before leaving on the bus.
You can listen to my interview with Ole here:

Ole Skallerud (6 min MP3)
I also have a little video clip of a cow in the robot getting milked:

Robotic Milking Action (1 min WMV)
AgWired coverage of IFAJ 2006 is sponsored by: