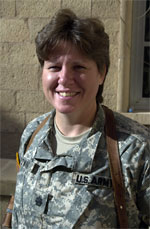 I have received an audio report from Iraq that you might find interesting. The email I received says it's from Paul McKellips who's on assignment with the Department of State at the U.S. Embassy in Iraq. The report: focuses on a US military team of large animal veterinarians who are training their Iraqi counterparts to improve and enhance livestock health in Iraq. Iraqi vets have already had a successful battle against H5N1 (avian influenza) and are making great strides against the country's other serious diseases, including foot and mouth disease (FMD). American expertise and taxpayer dollars are having a positive impact on Iraq's agricultural future.
Lieutenant Colonel Deanna Brown is from Little Rock, Arkansas. After graduating from Mississippi State University's College of Veterinary Medicine she became a dairy practitioner on a southern Wisconsin dairy farm. In 1991 she joined the US Army where, as an active duty officer, she applies her large animal veterinary skills.
You can listen here:

Iraq Large Animal Veterinarians Report (4 min WMA)

Paul McKellips is on detail assignment to the U.S. Department of State's Public Affairs GO Team in Iraq. He is permanently employed by USDA's Farm Service Agency in Washington, DC.