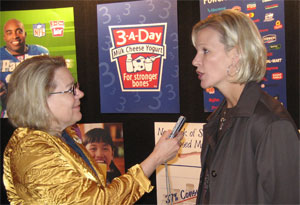 U.S. dairy exports have doubled in the past decade to now represent about eight percent of dairy production.
California dairy producer Kimberly Clauss, who is secretary of the National Dairy Board, says exports continue to increase.
"We're already 14 percent above where we were a year ago at this time," said Clauss. That includes a 28 percent increase in cheese, 24 percent more whey proteins and 18 percent more lactose.
"Our biggest export market is Mexico," according to Clauss. "But we also have major markets in Asia, Japan, China, the Middle East and Russia."
Since 95 percent of the world's population lives outside of the U.S., more markets for U.S. dairy products mean higher prices for U.S. dairy producers.
Listen to an interview with Kimberly

Dairy exports (3:30 min MP3)
Pictured is Cindy (left), my wife, who interviewed Kimberly at the recent National Association of Farm Broadcasting Convention.