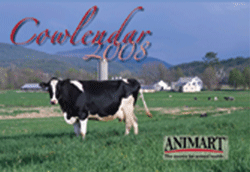 The new Cowlendars are here. That would be the dairy cow calendars from Animart.

ANIMART, Inc. has released its annual, uniquely-themed customer appreciation calendar. This year, the ANIMART calendar features close-up photos with dairy cattle. Displaying playful personalities, these images also serve as timely reminders to dairy producers about seasonal animal health issues. And, as a tool for busy producers, each day on the calendar has return and due dates to help with dairy cattle heat detection, management and pregnancy planning.
For each of the past seven years, ANIMART has developed a unique theme to feature in their annual calendars and product catalogs – affectionately named "Cowlendars" and "Cowtalogs" by ANIMART staff and customers. The calendars are created as a special token of appreciation to dairy customers. For the 2008 year, each page of the 13-month calendar (starting with December 2007) features a different angle of dairy cattle. Playful captions are from a dairy cow's point of view, and touch on everything from annoying fly problems to the pains of mastitis.
"This year's theme is the many angles from which we see dairy cattle," says Ruth Metz, co-owner of Animart with her husband, Dr. James Metz. "Our customers work hard, and we hope this year's Cowlendar's fun and playful nature will bring both humor and friendly reminders to their business."
The cover of the new 2008 product catalog features the same theme as the calendar. The "Cowtalog" is now available and ready for customers to put to use in making convenient telephone, fax or internet orders for all their animal health needs.