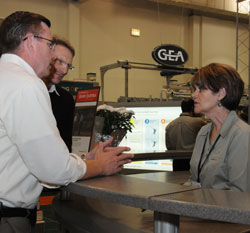 Last week GEA Farm Technologies was announced as the new "brand" for WestfaliaSurge, Houle and Norbco. Before Expo was over I spoke with Linda Mrugacz, Director, Marketing & Communications. I wanted to find out what kind of feedback they had been receiving from producers attending the show.
According to Linda, "Actually, it's going very well. There's a lot of interest in general about the name, a lot of questions about it, "What does GEA stand for?" Well, it stands for Global Engineering Alliance. GEA Farm Technologies is part of a global alliance of 250 companies according to Linda. She says this means that producers will get the benefit of a "total offering" from the "family of GEA Farm Technology companies."
You can listen to my interview with Linda as part of our Milking Parlor Podcast: [audio:http://zimmcomm.biz/wdd/milking-parlor-40.mp3]
To subscribe to the Milking Parlor podcast, here are some instructions.
World Dairy Expo 2008 Photo Album
Sponsors of World Dairy Diary coverage of this year's World Dairy Expo include GEA Farm Technologies and BASF Plant Science.