Pioneer has a pretty major presence at the 2009 Farm Progress Show in Decatur, Illinois where I met up with silage expert Scott Dennis and talked about silage – past, present and future.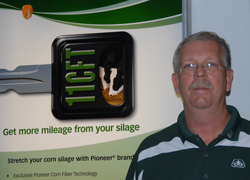 Pioneer likes to help producers "get more mileage" from their silage. Dennis explains how Pioneer is unique as a seed company with what they have to offer producers during these challenging economic times to get the most from their silage crop. He talks about where Pioneer is now in terms of silage corn varieties and technology, where they were 20 years ago, and where they are going in the future.
Listen to this edition of Forage Forum here:
[audio:http://www.podtrac.com/pts/redirect.mp3?http://zimmcomm.biz/pioneer/pioneer-podcast-62-wdd.mp3] Scott Dennis Talks Silage at Farm Progress Show (6:00 min MP3)
To see all archived Pioneer Forage Forum podcasts, click here.