World Dairy Diary coverage of World Dairy Expo is sponsored by: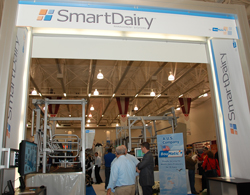 BouMatic has been a global leader in innovative dairy farm products and now they can even make your dairy farm smarter.
At World Dairy Expo this week, BouMatic was introducing its brand new Smart Dairy management systems to producers. I talked with Senior Marketing Director John Mansavage about Smart Dairy.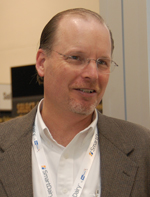 "This is an automation control system for dairy operators," Mansavage says. "We've developed a modular system where all areas of control on the dairy can be managed through a single control access point and the dairyman can do it from his kitchen table, from the parlor itself, from the beach in Miami – wherever it suits him." He says it just allows producers to be that much more efficient in challenging economic times when efficiency means productivity.
Mansavage is also on the board of directors for World Dairy Expo and he says they were very pleased with the turnout for this year's event, despite the economic situation for the industry. "Bar none, this is the dairy show – maybe on the planet," he told me. "we're real happy with the response we're getting and the people we're talking to in the booth – they're upbeat. This is probably the toughest I've ever seen it in 20 some years of being in the dairy business but it's kind of an amazing optimism that remains and everybody is just getting through it."
Listen to my interview with John from World Dairy Expo here: