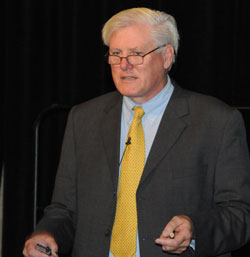 Trends and technologies in the diary industry was the subject of the first presentation on day two of the Global Dairy 500 Conference. Presenting was Jay Johnston, Ritchie Feed and Seed, Canada.
Jays says "it is not a fun time" in the dairy business. That means it's time for dairy farmers to look at efficiency closer than ever. He says "we're leaving 15-20% on the table."
When it comes to trends he says "we're trying to get that 20% back." He says he's working on a new protein product that will help with costs savings. Feed components are a very important he says.
He does encourage dairy farmers to keep smiling because he believes things will get better.
You can listen to my interview with Jay below:
2009 Global Dairy 500 Conference Photo Album
World Dairy Diary coverage of the Global Dairy 500 Conference is sponsored by

.