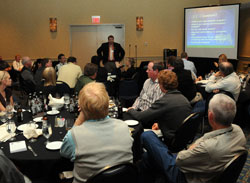 In the theme of global dairy farming we had discussion dinner tables with international people like at my table where we had farmers from the USA, Colombia, Brazil and South Africa.
There were six different topics for each discussion dinner room. Mine focused on silage but others included mastitis and somatic cell count control, reproduction, the importance of grazing, economics of scale: large herd sizes and toxins and toxicology.
2009 Global Dairy 500 Conference Photo Album
World Dairy Diary coverage of the Global Dairy 500 Conference is sponsored by

.