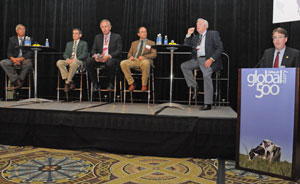 The future of milk marketing was the subject of our last panel of the day here at the Global Dairy 500 Conference. The afternoon activities include tours of the Alltech headquarters and a dinner at Kentucky Horse Park.
I spoke with Harm Holman, European Dairy Farmers, Netherlands after the session concluded. He's pictured tall and in the middle. Harm says he milks 140 cows.
He says it's very important to be an entrepreneur that has to make a profit and to be competitive. Like other panelists he sees larger farms and less farmers in the future. In his part of the world he says that those who have the most simple systems are doing the best. He also believes that becoming more efficient and lowering input costs is vital to success in dairy farming today. He's optimistic for the best farmers in the future, meaning that not everyone will survive in the next 5 to 10 years.
You can listen to my interview with Harm below:
2009 Global Dairy 500 Conference Photo Album
World Dairy Diary coverage of the Global Dairy 500 Conference is sponsored by

.