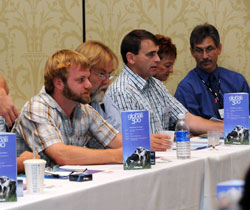 One of our domestic dairy producers attending the Global Dairy 500 Conference is Daniel Williams, seated to the left in the photo. Daniel has an 800 cow dairy in Madison, GA.
When it comes to challenges he says right now it's "money." That includes becoming more efficient and watching what you spend and on what. He thinks the Conference has been very helpful, especially one of the morning speakers the first day.
Like others I've spoken with, he says that all dairy farmers in the world are having trouble making it right now. He thought that getting to talk with other farmers has made him feel better about where he's at with his operation right now.
You can listen to my interview with Daniel below:
2009 Global Dairy 500 Conference Photo Album
World Dairy Diary coverage of the Global Dairy 500 Conference is sponsored by

.