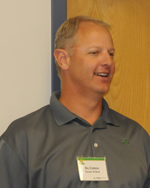 This year, many producers are seeing a delay in corn silage harvest. Bill Curran, Pioneer research scientist, discusses harvest timing factors and how the growing season impacts the nutritional value of the silage.
Curran spoke to agricultural media recently at the Pioneer Forage Media day held at the Livestock Nutrition Center in Johnston, IA.
Listen to this edition of Forage Forum here:
[audio:http://www.podtrac.com/pts/redirect.mp3?http://zimmcomm.biz/pioneer/pioneer-podcast-64-wdd.mp3] Bill Curran on Delayed Forage Harvest (4:00 min MP3)
To see all archived Pioneer Forage Forum podcasts, click here.