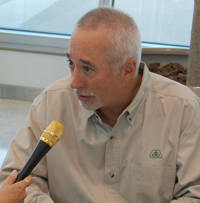 Dr. Bill Mahanna, nutritional sciences manager for Pioneer, discusses ideal moisture percentages for high moisture corn. Mahanna says high moisture corn and snaplage benefit digestion. He also comments on corn particle sizes and inoculants for high moisture corn.
This edition of Forage Forum was recorded at the Pioneer Forage Media day held in September at the Livestock Nutrition Center in Johnston, IA.
Listen to the podcast here:
[audio:http://www.podtrac.com/pts/redirect.mp3?http://zimmcomm.biz/pioneer/pioneer-podcast-65-wdd.mp3] Bill Mahanna (4:45 min MP3)
To see all archived Pioneer Forage Forum podcasts, click here.