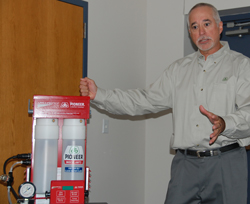 Pioneer nutritional sciences manager Bill Mahanna likes to show off cool tools that can make life better for dairy producers. This one is Pioneer's AppliPro® SLV (Super Low Volume) Forage Additives Applicator System, which Bill talked about during the Forage Media Day in September.

In this "must hear" Forage Forum, Bill discusses inoculant application technology and how drastically it has changed over the past 30 years.
Listen to the podcast here:
[audio:http://www.podtrac.com/pts/redirect.mp3?http://zimmcomm.biz/pioneer/pioneer-podcast-67-wdd.mp3] Bill Mahanna on Silage Inoculant Application (5:00 min MP3)
To see all archived Pioneer Forage Forum podcasts, click here.