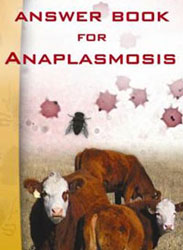 Anaplasmosis is a tick-borne disease that causes loss of production and abortion in beef cattle and significant decreases in milk production in dairy cattle.
Alpharma Animal Health has just come out with a new "Answer Book for Anaplasmosis" that provides straightforward answers to common questions about the disease, such as: What is anaplasmosis? How does anaplasmosis spread? How are infected animals diagnosed? and How can the disease be managed? Much of the information is based on advancing technology that has shed new light on the lifecycle and diagnosis of anaplasmosis.
Request a free copy of the Answer Book for Anaplasmosis by emailing uscattlemarketing@alpharma.com.