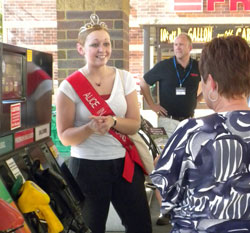 Alice in Dairyland (aka Cheryl O'Brien), Wisconsin's official agricultural ambassador, helped to promote ethanol last week during a Minnesota-Wisconsin "Border Battle" between two fuel retailers on opposite sides of the St. Croix River.
The promotional event on Thursday featured a rush-hour special where both stations sold E85 (85 percent ethanol fuel) at an 85 cents per gallon discount from 4-6 pm. The promotion was supported by the Minnesota Corn Growers Association, Wisconsin Corn Growers Association, Holiday Companies, Erickson Oil, American Lung Association of the Upper Midwest and MN & WI Clean Air Choice Teams.
Bob Moffit with the American Lung Association of the Upper Midwest reports that the Wisconsin station ultimately won the border battle, selling 589 gallons of E85 during the two-hour promotion, while the Minnesota station sold 447 gallons.
Thanks to Bob for the photo!