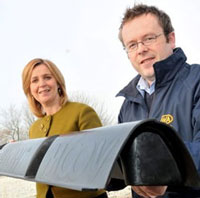 A dairy housing company based in Northern Ireland has designed a new pillow to make cows even more comfortable.
J Wilson Agriculture was helped by Invest Northern Ireland to design, manufacture and internationally market the product, called moovApillow, which they say would be a first of its kind to be marketed for the comfort of dairy cattle.
According to Andrew Wilson, J Wilson Agriculture Managing Director, the new pillow expands on the company's current product offerings, including cow stalls and mattresses, designed for the comfort of cows and horses. "Research shows that a comfortable cow produces higher levels and better quality of milk. The latest product, a one piece, high absorbency and robust pillow, helps farmers meet the challenge for higher milk production," he said. "Given the volatility in milk prices over recent years, anything that helps to increase production can lead to better yields and returns for dairy farmers."
Carol Keery of Invest NI, is pictured here with Wilson and the new pillow. J Wilson Agriculture was formed in 1995 to manufacture products such as cow cubicles, mattresses and ventilation systems for the farming industry.