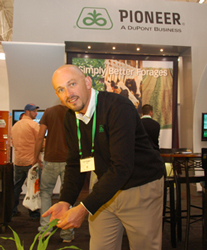 Pioneer Hi-Bred is pleased to present a new silage brown midrib BMR hybrid for producers at World Dairy Expo this week.
The company is releasing Pioneer® hybrid P1376XR, a 113-day BMR hybrid, in limited quantities to growers primarily across the northeastern United States for the 2012 planting season. "P1376XR is our first BMR hybrid corn product," says Kyle Whitaker, Pioneer senior sales and marketing manager for global forages. "To develop it, we back-crossed the brown midrib trait into our best silage inbreds and it resulted in some really nice advantages over competitive products."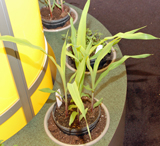 Among those advantages are good digestibility, improved agronomics, increased yields, high starch, strong drought tolerance, disease and pest resistance. This hybrid contains Herculex® XTRA insect protection as well as the Roundup Ready® Corn 2 trait and the LibertyLink® gene.
Kyle is pictured here at the Pioneer booth at World Dairy Expo where the new BMR hybrid is on display. We did an interview last week over the phone prior to the official release of the hybrid.
Listen to or download that interview here: Pioneer's Kyle Whitaker
Read more about it here.
2011 World Dairy Expo Photo Album
World Dairy Expo coverage sponsored by Charleston Orwig Dairy Business Association Alltech Hoard's Dairyman Accelerated Genetics