The Dairy Checkoff has been promoting the advantages of getting social to dairy producers for a couple of years now and one of the National Dairy Promotion and Research Board members found out just how important that is recently.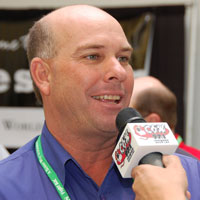 I talked to Brad Scott, a fourth generation family dairy farmer from Southern California, during the Talk Session at World Dairy Expo last week and he told me about why he finally caught the Twitter bug. "Just recently my state contacted me because they were having 13 "mommy bloggers" come out," Brad said. "They got to see us, have dinner with us and have lunch with us for two days and I got to know them and got to understand what their concerns are."
Not only did these "mommy bloggers" from urban areas get to learn about animal care, milk testing, and environmental stewardship on a working dairy farm, they also taught Brad a thing or two. "They got me on Twitter, so now I have a Twitter account and all these mommmy bloggers are following me!" he said, which gave him the opportunity to follow them and find out what they were saying to their followers about their experience on his farm. "Everything was positive. They were very excited about telling their followers our story and the great things we do on the dairy."
If you want to follow Brad, he is Twitter.com/UdderDelite. Find out more from the Dairy Checkoff about Telling Your Story.
Listen to my interview with Brad here: Brad Scott
2011 World Dairy Expo Photo Album
World Dairy Expo coverage sponsored by Charleston Orwig Dairy Business Association Alltech Hoard's Dairyman Accelerated Genetics