Meet the new officers of the National Cattlemen's Beef Association. The three were elected at last week's Cattle Industry Convention in Nashville.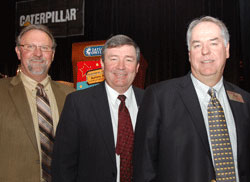 From left to right, they are: President J.D. Alexander from Pilger, Nebraska; President-Elect Scott George from Cody, Wyoming; and Vice President Bob McCan of Victoria, Texas.
President-elect Scott George is primarily a dairyman in a family partnership that also includes a small cow-calf operation and breeding business. "Cattle are our whole business," he says, adding that he has never been more optimistic about both the beef and dairy industries. "Demand is good, both domestically and internationally, so we've got some great opportunities, great prices and that should remain for several years."
Scott says issues NCBA will be focused on in 2012 are the estate tax, transportation issues and a new farm bill.
Listen to my interview with Scott here: NCBA president-elect Scott George