Congressman Tom Rooney (R-FL), Chairman of the House Agriculture Subcommittee on Livestock, Dairy and Poultry, held a hearing this week to review dairy programs as part of drafting the 2012 Farm Bill process.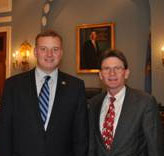 "At our dairy audit hearing last fall, we got a sense for the inadequacy of some of our current dairy programs," Rooney said. "While consensus is building around some of the reforms to dairy programs that we can implement in the Farm Bill, today's hearing showed that some of these items remain controversial, and that's why it's critical that we understand how these new recommendations would work and what their impacts would be."
Joe Wright, a third generation dairy farmer from Avon Park, Florida, (pictured here with Rooney on the right) testified at the hearing on the impact of proposed reforms on Florida's dairy farmers. "While we are opposed to the continuation of the Dairy Price Product Support Program, MILC and the Dairy Export Incentive Program (DEIP), we do support fiscally responsible dairy programs such as Federal Milk Marketing Orders and a margin protection program that is both dairy producer and federal budget friendly," said Wright, who is president of V&W Farms and President of Southeast Milk, Inc.
Others who testified at the hearing included, Tom Barcellos of California, Board President of Western United Dairymen; John Davis, CEO of Davisco Foods International; and Jerry Kozak, President and CEO, National Milk Producers Federation.