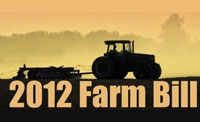 The number of proposed amendments to the Senate farm bill shrank from nearly 300 to 73 this week as senators struck a deal to get debate back on track.
Votes were held on a number of those amendments Tuesday, included a couple of dairy-related measures. One by Sen. Olympia Snowe (R-ME) that passed requires milk marketing order reform, eliminating the use of end-product price formulas for setting prices for Class III milk and requiring handlers to report, maintain, and make available all information and records for the administration of any milk marketing order. "Without this amendment, small dairy farmers face possible extinction due in part to excessive market volatility," Sen. Snowe said on the floor. The amendment passed by a vote of 66 to 33.
Another amendment, proposed by Sen. Bob Casey (D-PA) orders a study of the feasibility of establishing 2 classes of milk, a fluid class and a manufacturing class, to replace the current 4-class system. The amendment was agreed to by a vote of 73-26.