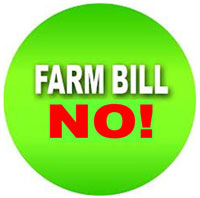 No new farm bill means dairy producers will be left holding an empty bucket at the end of this month.
"With expiration of the farm bill, dairy farmers will lose what little safety net they have," said Rep. Louise Slaughter (D-NY) who led a failed attempt last week have the House consider the Senate-passed farm bill prior to adjourning until after the November election.
While expiration of the MILC program in and of itself will not have a significant short term impact on dairy producers, not having a new farm bill now is "a huge hit to dairy at a time when dairy is really struggling," said Agriculture Secretary Tom Vilsack.
Secretary Vilsack is frustrated and disappointed that House leadership failed to allow a vote on the bill passed by the agriculture committee, and he thinks they have ulterior motives. "I don't think it's simply issues involving nutrition assistance," he said. "I think the House leadership also has plans to significantly cut and reduce support for farm programs – conservation programs, commodity title, as well as the crop insurance title."
Speaker of the House John Boehner (R-OH) told reporters last week before Congress called it quits that they would deal with a farm bill after the election because he did not believe there were 218 votes to pass either an extension or new legislation. "The current situation that we face is that we've got people who believe there's not enough reform in the farm bill that came out of committee, and others who believe there's too much reform in the bill that came out of committee," Boehner said. "But when we get back, we will deal with the issue of the farm bill."
Democratic leaders in Congress, including Senate Agriculture Committee Chair Debbie Stabenow (D-MI) and Ranking Member Collin Peterson (D-MN) have vowed to oppose an extension of the current farm bill in the lame duck session and get a new bill passed that would include a new dairy program. "I'm absolutely committed to doing everything humanly possible to complete the farm bill in November or December," Stabenow said.