As I mentioned in a post yesterday, there are loads of fun things to see, eat and learn about each year during the World Pork Expo. A new cool product that I ran across is an innovative new lighting system designed with the swine industry in mind. When speaking with Burlington-IA, Energyficient Systems CEO Chad Palmer (and designer) he explained that inefficiencies in both cost and safety led to the development of the Agrificient LED – the first retro-fit LED light.
Ok, so what is so cool about this light? For one thing, it burns significantly cooler, like 100 degrees cooler than other light bulbs. Extra heat emitted by lights reduce the lifespan of the lights as well as short-out electrical wiring. They also create extra heat in the pig barns that can be hard on both the pigs and their caretakers. In addition, while most lighting systems use a "casing" structure, in other words the light is encased in a glass structure (once again creating more heat) and when producers are cleaning out their buildings, the water can shatter the glass. Think hot light and cold water…in all scenarios they don't mix.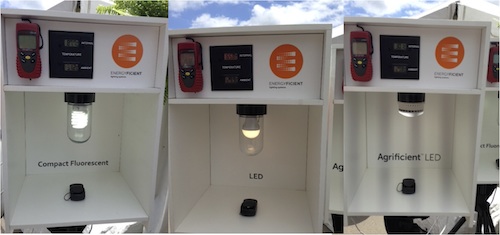 I'm speaking in consumer terms but Palmer explains about the patent-pending product, "The purpose-built design of the Agrificient LED addresses all of the daily challenges found with traditional swine barn lighting. Challenges include eliminating water penetration from the outside in and the inside out; insects and water collecting in the jar (or what I termed casing); bulb burnout; and glass jar breakage from over heating or being douse with cold objects such as water.
To get a better idea of how the Agrificient LED is so different from the current solutions, at the Agrificient booth (1000), Palmer gave me a personal walk through of current solutions against their solution. One thing I noticed right away, that compared to florescent lighting and even current LED solutions, the light was natural and easy on the eyes. Here is the video:
Now, for all you producers out their (the lighting system works in all ag-related buildings and also in the manufacturing sector) who are looking for ways to reduce costs, increase safety and ultimately increase your energy efficiently, then you really need to check out this system. I'm just hypothesizing, but I believe converting current lighting systems to more energy efficient systems are exactly the type of programs that the USDA is funding through their REAP program.
Palmer said the Agrificient LED will be available late-July for national distribution and several major pork producers have already committed to using this lighting system in their facilities.
Check out the 2014 World Pork Expo photo album.