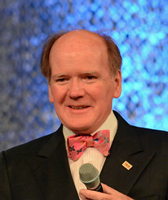 The founder of a company that improves the health and performance of people, animals and plants through natural nutrition and scientific innovation will be honored with an award that recognizes individuals of exceptional merit. Dr. Pearse Lyons, president and founder of Alltech, will receive the 2014 Henry Clay Medallion for Distinguished Service.
The Henry Clay Medallion recognizes, honors and celebrates individuals of exceptional merit who share characteristics of the life and work of the great Kentucky statesman, Henry Clay. Senators, Speakers of the House, royalty and business visionaries are among the list of distinguished past recipients.
Lyons was selected for his accomplishments within Kentucky as well as for bringing the best of Kentucky to the attention of people throughout the United States and around the world. Lyons founded Alltech in Kentucky in 1980 with $10,000, and it is now a $1 billion company operating in 128 countries with more than 3,500 employees.
Wherever his frequent travels take him, Lyons brings along Kentucky, promoting the region as an ideal place to live, visit and do business. His enthusiasm for the state extends to a number of community and education-focused initiatives, such as the Alltech Vocal Scholarship Competition, which annually awards more than a half-million dollars in University of Kentucky Opera Theatre scholarships; a commitment with his wife, Deirdre Lyons, the director of Alltech's corporate image and design, to construct at least one Kentucky primary school laboratory each year; and an annual Innovation Competition that sets Kentucky university business teams against one another to promote economic growth within the Commonwealth of Kentucky.
Check out Chuck's conversation with Lyons during this year's annual Alltech Symposium.