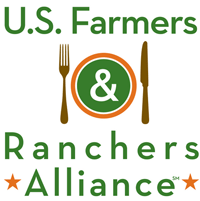 The U.S. Farmers & Ranchers Alliance® (USFRA®) is bringing the voices of farmers and ranchers to the New York Times "Food for Tomorrow" conference next week.
USFRA will host a breakfast and panel discussion entitled "Big Ag, Big Food: How Being Good for the Environment Is Not about Size" at 8:30 a.m. EST on Wednesday, November 12 at the Stone Barns Center for Food and Agriculture in Pocantico Hills, NY.
"USFRA is excited to have the opportunity to add the perspectives of farmers and ranchers on our panels to this important gathering of food minds," said Randy Krotz, chief executive officer of USFRA. "During the discussion, panelists will have the opportunity to share their point of view on the role sustainability plays in today's production practices." The panel will include Illinois hog producer Julie Maschhoff, California farmer Bruce Rominger, and Nebraska cattle feeder Joan Ruskamp.
The first annual New York Times Food for Tomorrow conference will explore two of the most important food challenges facing the world in the 21st century: how to feed a growing population of the world's poor and how to reverse poor eating habits in the developed world.