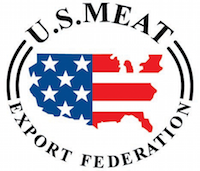 On this week's audio report from the U.S. Meat Export Federation (USMEF), technical services manager Cheyenne McEndaffer discusses the recent agreement that will resume trade for fresh and frozen beef cuts to Brazil for the first time in 13 years.
U.S. beef had not been accepted by Brazil since the December 2003 BSE case, and Brazil's beef exports to the United States had been limited to cooked and processed products, due to foot-and-mouth disease concerns. The two countries announced that they would resume trade for fresh and frozen beef cuts this August.
Brazil is one of the world's largest beef-producing and beef-exporting countries, but there are definitely opportunities in the market for certain U.S. beef cuts. The picanha, commonly known in the U.S. as the sirloin cap, is very popular in Brazil and buyers are excited to gain access to the U.S. version of this cut. Other U.S. cuts expected to do well in Brazil are beef livers, short ribs, chuck flaps, tri-tips, striploins, skirts and chuck eye rolls.
Learn more in the full audio report:
USMEF Report, Beef Exports to Brazil