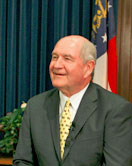 President-elect Donald Trump will officially round out his cabinet by nominating former Georgia Governor Sonny Perdue as Secretary of Agriculture just a little more than 24 hours before the inauguration.
As word about the choice spread Wednesday evening, most agricultural groups were waiting for the official announcement to respond, but one of the first was the National Cattlemen's Beef Association, calling him "an excellent pick" to head USDA. "As a lifelong agri-businessman and veterinarian, as well as the two-term governor of a state where agriculture's the largest industry, Gov. Perdue has a unique and expert understanding of both the business and scientific sides of agriculture," said NCBA president Tracy Brunner of Kansas.Interview with Tracy Brunner, NCBA
George Ervin "Sonny" Perdue III is 70 years old and served as governor of Georgia from 2003 to 2011 as the first Republican governor elected in 130 years. He grew up on a farm, was a veterinarian and operates grain and fertilizer businesses. And even though Georgia is a top poultry producing state – no, he is not related to the Perdue poultry business.