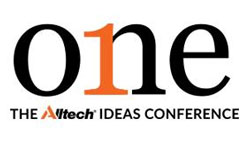 Alltech has finally announced their lineup of renowned keynote speakers for the 2017 ONE: The Alltech Ideas Conference. George Blankenship, former executive at Tesla Motors, Apple Computer and GAP Inc. will use his experience to provide unmatched insight into building and creating brand loyalty and awareness, competitive positioning in the market and what it takes to deliver superior customer care.
Jack Bobo, senior vice president and chief communications officer for Intrexon, assesses the relationship between science and agriculture. He will offer his unique perspective on global trends in agriculture, consumer perceptions and science communication.
Dr. Peter Diamandis, international pioneer in innovation and New York Times best-selling author, will share his insight and strategies for making big impacts on the future.
"This year's audience should prepare for truly disruptive ideas when they hear from these influential leaders," said Dr. Pearse Lyons, Alltech's founder and president. "From changing the car-buying experience to serving as the architect of Apple's brand-building retail methodology, George Blankenship has disrupted the status quo in several industries. Peter Diamandis taught us how to go big, create wealth and impact the world through his book 'Abundance.' And Jack Bobo is a name synonymous with biotechnology and consumer perceptions."