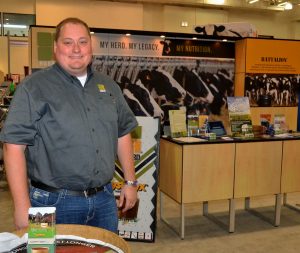 As robotic milking equipment is becoming more prevalent in the dairy industry, the need for customized feed to use in the systems is increasing, so Hubbard Feeds came up with Robo-Max Computerized Feeder Pellets.
"What we've found is that you really need to fine tune what's going into your pellet formula by having the right amount of starch or energy available right there at the robot," said Hubbard Feeds dairy nutritionist Jon Pretz during an interview at World Dairy Expo.
Since the systems rely mostly on the animals desire to receive the feed offered through the robot, a high quality, palatable pellet is essential. "What we like to do is increase that starch level as much as we can to get a high-energy pellet into the robot to drive the cows to the robot," said Pretz.
Learn more in this interview: Interview with Jon Pretz, Hubbard