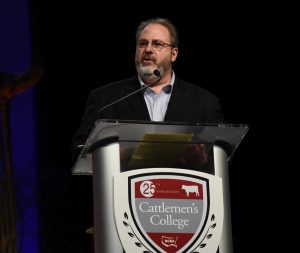 A key report regarding U.S. beef cattle identification and traceability systems was released this week and the Cattle Industry Convention and National Cattlemen's Beef Association Trade Show in Phoenix. Developed by World Perspectives, Inc., the report contains conclusions and recommendations based on surveys and interviews with industry stakeholders as well as other research.
"I think a few things emerged from this report," said Dave Juday, Sr. Analyst with World Perspectives, Inc. "One of them is the changing perception among the industry players about animal ID and traceability. People are more open to it. The other is that it's pretty clear that the industry is looking for some leadership on this topic."
The reports outlines seven principles for continuing the animal identification and traceablity discussion. Read the entire report here.
Listen to Jamie's interview with Dave Juday here: Dave Juday, World Perspectives, Inc.
Hear Dave's remarks during the convention here: Dave Juday's Convention Remarks