Over 80 of the nation's leading trade associations representing thousands of businesses and workers today announced the formation of Americans for Free Trade a multi-industry coalition aimed at opposing tariffs and highlighting the benefits of international trade to the U.S. economy. This new coalition will immediately join Farmers for Free Trade, the coalition backed by the nation's largest ag commodity groups, in a multi-million dollar national campaign called Tariffs Hurt the Heartland. The campaign will focus on telling the stories of the American businesses, farmers, workers and families harmed by tariffs through town-hall style events, grassroots outreach to Congress and the administration, social media, rapid response and digital advertising.
The campaign includes a geographically searchable map (TariffsHurt.com) that allows users to find stories of job losses, deferred investments, higher prices and other negative consequences for farmers and businesses in communities across the country impacted by tariffs.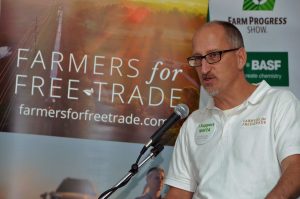 "This campaign will show how tariffs are squeezing the average American family and community from every direction," Farmers for Free Executive Director Trade Brian Kuehl said during a telephone press announcement today. "If you are in Des Moines, Iowa or Harrisburg, Pennsylvania it's not just that tariffs are dropping the value of corn, soy or pork. Increasingly it's that the price of buying a dishwasher has gone up, or that a local business has put off expansion because of the price of steel or aluminum. By joining with leading retailers, manufactures and services organizations, Farmers for Free Trade will play a big role in showing the comprehensive damage the trade war is having on American communities."
Kristen Duncanson, a 3rd generation farmer from Minnesota, was among those who spoke during the press conference to tell her story about how tariffs are hurting her community. "Right now my husband and I figured we are losing about 18-20 dollars per pig at market time," she said.
Listen to comments here from moderator Matt McAlvanah, David French with National Retailer Federation, Farmers for Free Executive Director Trade Brian Kuehl, and Minnesota farmer Kristen Duncanson –
Americans/Farmers for Free Trade press conference