From Mr. Buckeye Ag Radio Network himself, Andy Vance.
Education, Nutrition, University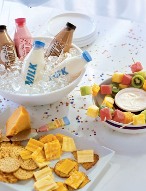 How are you supposed to get your 3 A Day on Super Sunday? It's easy if you use the recipes that the American Dairy Association has posted on their 3 A Day website.
Dairy Group, Nutrition, Promotion

The International Dairy Federation has some papers you may want to look at. They are seven independent scientific review papers that record the views of top nutrition scientists on milk and its role on the diet. They've been published as a supplement to the December issue of the Journal of the American College of Nutrition.
Dairy Group, Nutrition