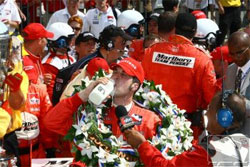 I had hoped to have taken this picture myself since I was attending the Indy 500 but my credentials didn't allow me in to get the photo. So this one is courtesy of the Indy Racing League.
Once again though milk is featured at the greatest spectacle in racing as you see Sam Hornish, Jr. tipping a bottle. After a swallow he doused himself in the cold beverage. It was a hot day on the track. I was there covering the event on our sister site, Domestic Fuel.
The milk was delivered to Victory Lane this year by Steve Phares and Merrill Kelsay who serve on the board of the Milk Promotion Services of Indiana.